20 Delicious Homemade Gluten Free Snacks for Kids!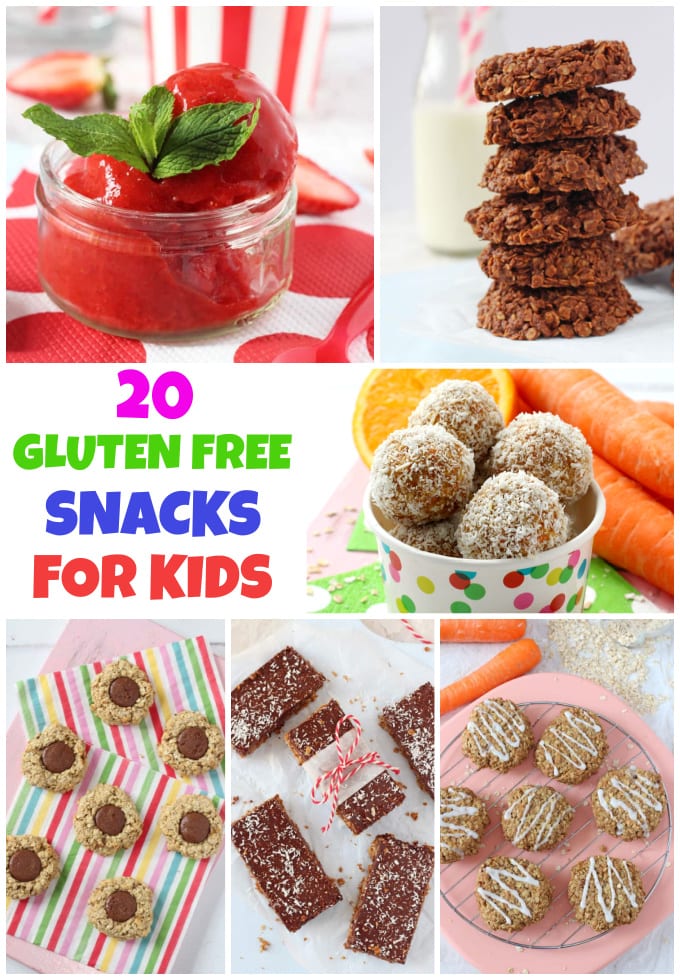 What is Gluten?
The food that we eat and the way in which we eat as a family has certainly changed over the last few decades and it seems like our diets have been increasingly filled with foodstuffs that are high in refined wheat content.
With this increase in wheat products in our diets today, comes increased gluten content.
Gluten is the protein component found in wheat and also in rye and barley. It gives elasticity to food and effectively helps food "bind together".
The most common foods that gluten is found in include bread, breakfast cereals, pasta, flour and pastry, but can also be present in things that you may not expect such as soups, sausages and some processed ready meals.
Why Gluten Free?
Coeliac disease which is an autoimmune disease caused by the body's adverse reaction to gluten is now said to affect 1 in 100 people!
But whether the small people in your family are affected by this disease or not, I don't think it does any harm to keep an eye on the amount of gluten containing foods that we feed our family and make sure that they are getting a balanced amount of all the food groups.
As parents, we are seemingly very conscious of how much sugar we give our children, so why not gluten too?
So, if you are looking for snack inspiration for a child with Coeliac Disease or if you just want some alternatives snacks that are gluten free, take a look at these 20 Best Gluten Free Snacks for Kids!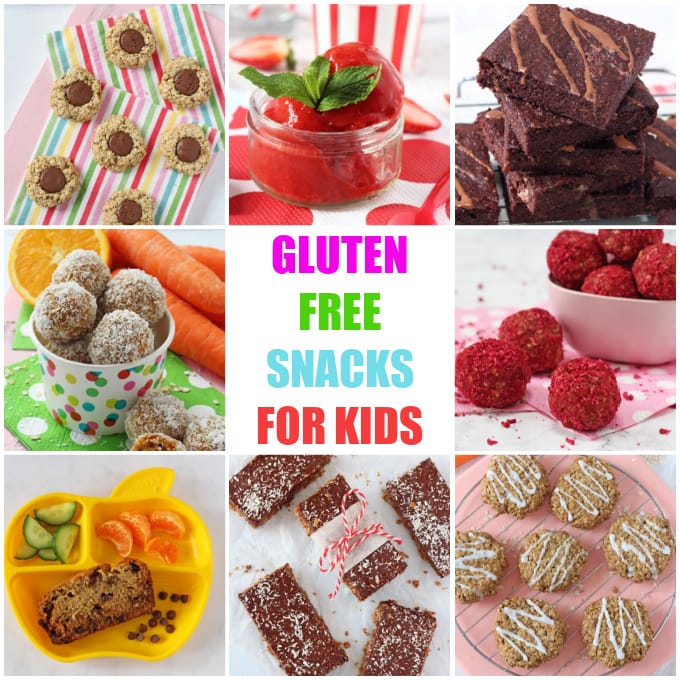 A Note About Gluten Free Oats!
It's important to note that not all oats are gluten free. Oats may be labelled as "100% oats" or "organic oats" but this does not necessarily mean they are gluten free. Fortunately it's a legal requirement for grain products that contain gluten to be listed in the ingredients list.
So in order to ensure you are gluten free, make sure you buy certified gluten free oats!
A Note About Gluten Free Flour!
For any recipes that include flour, this can be substituted for certified gluten free flour.
The Best Gluten Free Snacks For Kids
Delicious Homemade Gluten Free Snacks For Kids
If you try any of the recipes in this collection, please do leave me a comment below. You can also share your pictures with me on Instagram. I always love to see your creations!
Other Recipes Collections You Might Enjoy
How To Batch Cook & Freeze Snacks – My top tips on how to batch cook and freeze snacks for kids. Save time, money and stress by batch cooking these delicious family friendly treats and storing them in the freezer for busy days.
Easy Snack Recipes For Kids – 15 Delicious & Easy Snacks for Kids. Perfect to batch make for ready-to-go treats all week long!