15 delicious and easy pasta recipes that your kids will actually want to eat!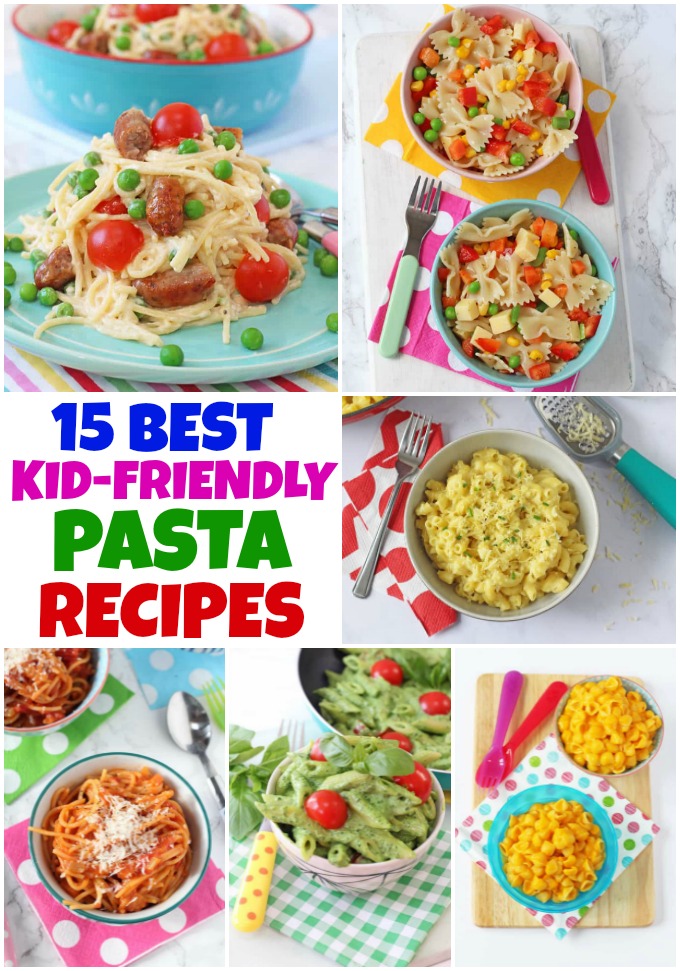 Now that the kids are pretty much settled back into school after the summer holidays our weekday routine is jam packed with juggling drops off, pick ups, work, and after school clubs. Some days can seem pretty hectic and there isn't always a great deal of time to spend preparing evening meals.
One meal that I know will always go down well in our household is pasta! It's super versatile, filling, comforting and best of all quick and easy to prepare. You can't beat a simple pesto pasta dinner but if you're looking for some new and different pasta recipes to try then check out the recipes below. Some even have lots of hidden veg… bonus!
15 of The Best Kid-Friendly Pasta Recipes
An easy, nutritious and kid-friendly pasta pesto recipe made with super healthy broccoli! Nut free too!
Basil Chicken Pasta Sauce (with spinach they won't notice!)
With no added salt, no added nasties, and so easy to make, this pasta sauce ticks all the boxes for us.  It also freezes well, and tastes seriously good.
This recipe is packed full of veggies. I've used a combination of chopped frozen vegetables that will cook really quickly and also some fresh ones too.
Roasted Veggie & Bacon Pasta Bake
Weeknight meals don't have to be tricky- this roasted veggie and bacon pasta bake is easy to make and can be split into stages so you don't have to do it all at once (which means it can be finished up until the final bake and then quickly finish it off in the oven at dinner time!
Creamy Avocado & Spinach Pasta
A quick and easy recipe perfect for picky eaters; Creamy Avocado & Spinach Pasta with a no-cook sauce!
This recipe can easily be adapted. Sometimes I add some finely chopped peppers and soften them with the onions. Other times I add some peas right at the end of cooking. Chopped olives taste delicious in this dish too.
One Pot Mac & Cheese With Hidden Veg
A delicious and easy Mac & Cheese recipe with hidden courgettes, made in one pot! Perfect for picky eaters who don't like eating their veggies! 
This chicken pasta bake is family friendly and has a healthy style with its high vegetable content of cauliflower and spinach.
Simple Tomato Spaghetti For Kids
A super simple recipe for spaghetti and tomato sauce, perfect to whip up for a quick and easy kid-friendly meal!
A twist on a pasta genovese, with a basil pesto, potato and beans, you can whip this up in 15 minutes. And I don't mean in a 15 minutes plus 30 minutes of prep time kind of 15 minutes. I mean 15 minutes total. Enjoy!
Quick Sausage Spaghetti For Kids
A quick and easy sausage pasta recipe for kids . And if there's one food I know my kids will devour with no complaints at dinner time it's sausages! 
Comforting Creamy Chicken Pasta Soup
There is no pre-cooking of any of the parts of this dish, not even the pasta, it all just cooks in the one pot, making it wondrously easy. I also love it as it is economical. So a great dish to pop on your meal plan when you want to keep food costs low!
Sneak some veggies into your kids meal with this delicious Butternut Squash Mac and Cheese recipe. Great for toddlers and baby weaning too!
A super speedy recipe for lasagne ready in just 30 minutes. Perfect for mid week meals!
A quick, easy but super delicious recipe for Sausage Meat Ragu. This simple meal has fast become a favourite in my family and I think you will love it too!

If you liked this post you may also enjoy:
The Best 15 Minute Meals for Kids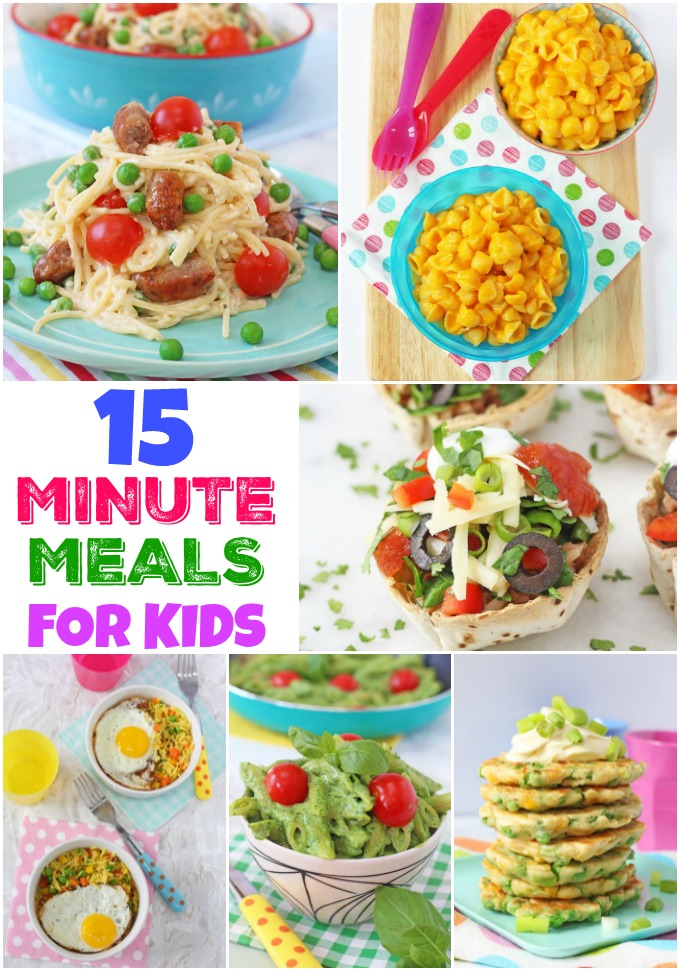 The Best Vegetarian Recipes for Kids