10 Delicious & Healthy Muffin Recipes That Kids Will Love!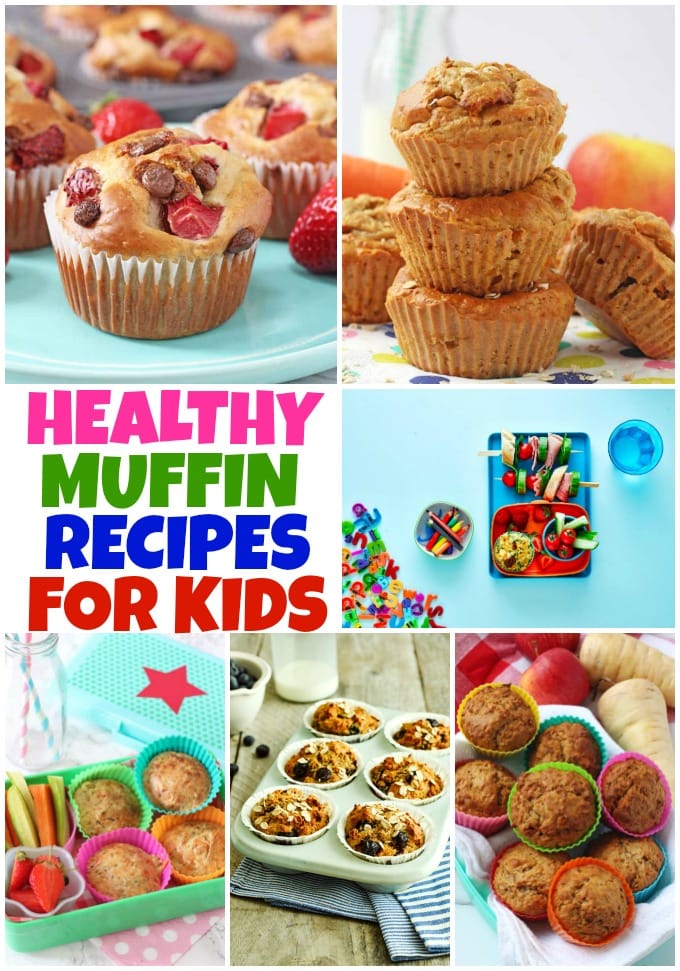 One of our favourite things to make at My Fussy Eater is muffins! And a good muffin doesn't have to be unhealthy.
We love the versatility of a homemade muffin.  Make them sweet or savoury, serve them for breakfast, lunch or a snack.
They are super easy to make, can frequently be made in advance and frozen to be defrosted as and when you need them and ingredients can be varied depending on your family's tastes!
They make a great grab and go breakfast for children and adults alike, are fab for putting into lunch boxes or are an easy and filling snack after school or nursery.
We've put together 15 of our favourite sweet and savoury healthy muffin recipes for you to try.
Healthy Muffin Recipes for Kids
Delicious and hearty Fruity Muffins made with filling and nutritious ingredients, perfect for a grab-and-go back to school breakfast for kids and adults too!
Feta & Spinach Lunchbox Muffins
Delicious savoury muffins packed with flavoursome ingredients like feta, spinach and sun-dried tomatoes. Perfect to batch cook and pop into lunch boxes for school and work!
Healthy Strawberry Chocolate Chip Blender Muffins
These Healthy Strawberry & Chocolate Chip Muffins are packed full of oats, banana, greek yogurt and honey and take just a couple of minutes to whip up in a blender or food processor.
Banana, Avocado & Apple Baby Muffins
Delicious oat muffins with no added sugar or honey; sweetened naturally with banana, avocado and apple sauce! Great for baby led weaning and older kids too!
Delicious gluten free, no added sugar muffins with hidden veggies sweet potato and carrot!
Healthy breakfast muffins packed with superfood ingredients such as manuka honey, chia seeds and flaxseed.
Broccoli & Goats Cheese Muffins
Delicious and mild Broccoli & Goats Cheese Muffins, perfect for kids' lunchboxes or to take out and about as a snack!
Healthy Oat & Blueberry Blender Muffins
Delicious and super healthy, these gluten free Oat & Blueberry Blender Muffins are so easy to make and nutritious enough to have for breakfast!
Spiced Pear & Oat Breakfast Muffins
Warming and fruity these spiced pear breakfast muffins are gluten free, dairy free and refined sugar free.
Mini Banana & Egg Muffins For Baby Weaning
Delicious Banana & Egg Mini Muffins made with just three natural ingredients. Perfect for baby weaning and toddler finger food too!
Apple & Carrot Greek Yogurt Muffins
Made with lots of healthy ingredients such as carrots, apple, greek yogurt and oats, these muffins are an excellent after-school snack to feed hungry kids!
Healthier Chocolate Chip Muffins
A delicious and easy Chocolate Chip Muffin recipe packed full of healthy ingredients like oats, greek yogurt and bananas. Perfect for an afternoon snack for kids or to add to their lunch box!
Spinach & Cheese Savoury Lunchbox Muffins
Delicious savoury muffins packed full of vegetables like spinach and peppers; perfect for a family lunch or a kids afternoon snack!
Delicious fluffy muffins made with parsnips from Peppa's Vegetable Garden. The muffins are wonderfully light and fluffy and also contain some apple for added sweetness. I've tested them on my children and their friends and they've got a big thumbs up from everyone!
A delicious and filling breakfast designed to get kids excited about eggs. Also perfect for low carb, paleo and Whole30 diets.