Our top 15 dinner recipes that can be served as finger food or eaten with your hands! Brilliant for picky eaters to create a more fun dinnertime experience.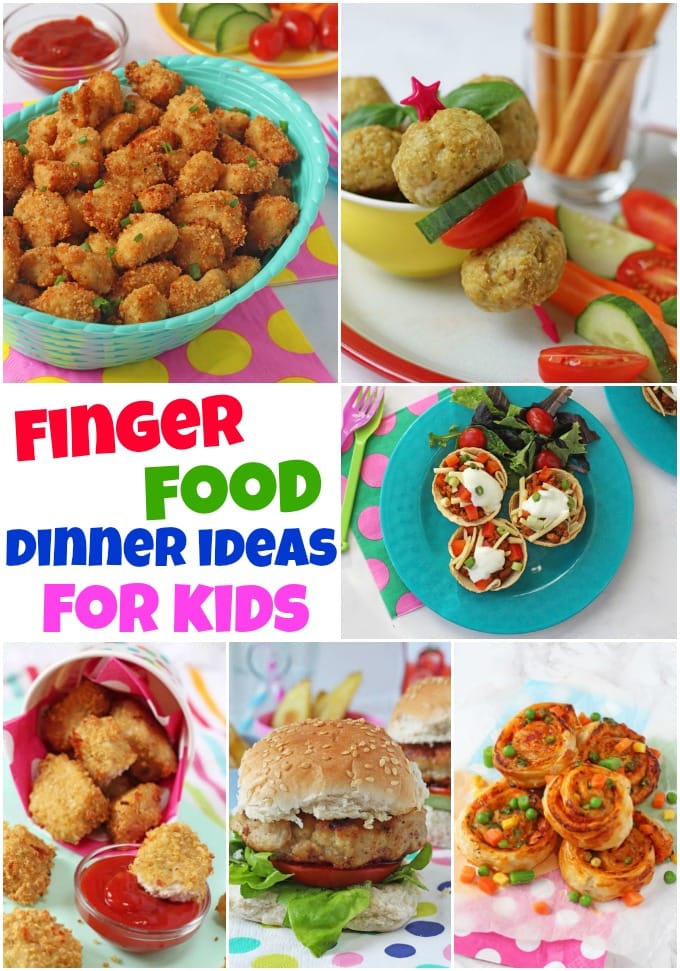 There's something about finger food (or in fact any food that can be eaten with your hands) that makes mealtimes feel that little bit more relaxed and that little bit more fun!
And for a lot of kids, a more relaxed mealtime can often mean they are more inclined to try new things perhaps, or to eat that little bit more than they would if they were battling with knives, forks and spoons and the formality of it all.
Eating is such a sensory experience and if you think about it, lots of the snacks that kids seem to really enjoy like crisps, ice lollies, cake and the like are all finger foods or food that you eat with your hands so why not extend the sensory experience to to main meals too!
We've put together our top 15 dinner recipes that can be served as finger food or eaten with your hands!
Meat & Fish Based Dinner Ideas
Popcorn Chicken makes a really delicious and fun dinner for kids. My recipe is baked to keep it super healthy but still really crispy thanks to the Rice Krispie coating!
The whole family will love this child-friendly no-marinade recipe for super easy Chicken Satay Skewers!
These tasty Chicken Fajitas are so easy to make. Simply bung all the ingredients into the slow cooker and come back to a delicious dinner later in the day!
Delicious Ham & Cheese Roll Ups made with puff pastry. They make a lovely treat tea for the family or can even be eaten cold for lunch!
Slow Cooker Quinoa Lettuce Cups Recipe
Packed full of protein these Slow Cooker Quinoa Lettuce Cups make a delicious, healthy and fun dinner for the whole family!
These Ham & Cheese Wraps and folded up like mini burritos and dry fried quickly to make them melting on the inside but soft and warm on the outside.
Delicious crispy baked salmon nuggets made using fresh salmon fillets!
Delicious kid-friendly burgers made with chicken thighs and grated apple!
Delicious chicken meatballs made with just 5 simple ingredients and flavoured with basil pesto and parmesan. Perfect for a finger food dinner for kids or even mixed into spaghetti and sauce.
These delicious Crispy Baked Quinoa Chicken Nuggets are a tasty and healthy twist on a classic children's favourite!
Vegetarian Dinner Ideas
Quick and easy Rainbow Vegetable Tortilla Pizza. Ready in just 10 minutes, it's a great healthy alternative to regular pizza that kids will love!
Delicious veggie nuggets packed with red lentils. These bite sized nuggets make brilliant finger food for kids and toddlers!
Delicious and easy to make, these Winter Warmer Quorn Taco Cups are sure to inject a bit of fun into family mealtimes.
Super easy to make and packed with mixed vegetables, these Veggie Pizza Puff Pastry Roll Ups are sure to go down a treat with the whole family!
Dippy Eggs with Avocado Grilled Cheese Toasties
Eggs aren't just for breakfast. These Dippy Eggs with Avocado Grilled Cheese Toasties make a tasty and quick lunch or dinner for hungry kids!
A delicious BLT sandwich made with savoury cheddar and chives waffles!
Packed full of protein and fibre, these Veggie Meatballs make a super healthy meal for kids. They're great finger food for baby led weaning too!
Delicious crispy crunchy marinated tofu in a soft floury tortilla and filled with your favourite toppings!