10 of the best Overnight Oats Recipes – easy to make, super healthy and perfect for breakfast all year round!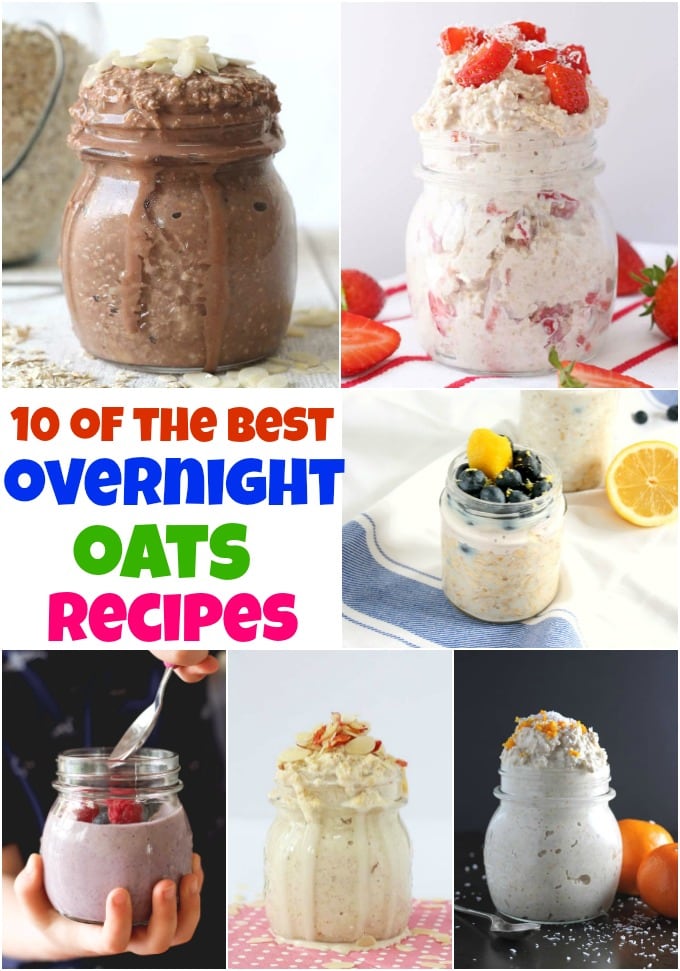 If you are a regular reader of the blog, you'll know that we absolutely LOVE overnight oats!
Why Do We Love Overnight Oats?
When morning's are hectic (pretty much every morning in my house!), it really takes some of the stress away knowing that breakfast is already prepared and ready to go.
They don't require lots of prep the night before! The ingredients can literally be thrown together in a couple of minutes.
Health wise, these overnight oats make a great breakfast for adults and kids alike. The carbs in the oats are slow releasing. This provides sustained energy throughout the morning. While the fats and protein will help keep you full. (I always use full fat milk and yogurt but feel free to use any dairy free versions too).
If you are new to overnight oats, then we'd really urge you to give them a try. And if you don't think cold oats are for you, then don't worry as they can also be warmed in the microwave before eating!
We've put together our favourite 10 overnight oats recipes for you try. But you can always play around with ingredients to suit your own tastes.
And we'd love to hear from you if you have any flavour combinations that you think we'd love too!
Overnight Oat Recipes:
The easiest and tastiest Overnight Oats recipe in the world with cocoa, banana, yogurt and milk!
Blueberry Lemon Cheesecake Overnight Oats
Blueberry lemon cheesecake overnight oats will start your day on a healthy and sweet note!
Strawberry Shortcake Overnight Oats
So easy to make and super healthy, these Strawberry Shortcake Overnight Oats honestly taste like strawberry ice cream and are sure to be a hit with the kids!
Creamy overnight oats with all the flavours of carrot cake – it's almost as good as eating cake for breakfast and a great deal healthier. These carrot cake overnight oats are suitable for vegans.
Orange, Coconut & Vanilla Overnight Oats
Delicious and healthy, this easy Overnight Oats recipe with orange, coconut and vanilla is sure to put a spring in your step in the morning!
A perfectly balanced breakfast that is deliciously smooth and creamy!
Apple & Almond Butter Overnight Oats
A tasty and healthy recipe for overnight oats with grated apple and almond butter!
Lemon Meringue Pie Overnight Oats
The meringue on this is made using greek yogurt, vanilla, and a touch of honey. It goes in a cute little swirl on top and really makes the breakfast just that much more special!
With just 2 ingredients and 2 minutes of your time, you can whip up this delicious and healthy plant based breakfast!
Super easy to make, these Overnight Oats are packed with flavour from ground cinnamon and make an excellent start to the day!
If you enjoyed this recipe collection, you might also like:
Healthy Grab & Go Breakfast Ideas For Teenagers – 15 Delicious & Healthy Grab-and-Go Breakfast Ideas for Teenagers. Perfect to hand to them as they rush out the door in the morning!
ORDER my new book THE FUSS-FREE FAMILY COOKBOOK out now. 100 healthy easy and quick recipes that the whole family will enjoy!