10 Delicious Family-Friendly BBQ Recipes You Have To Try!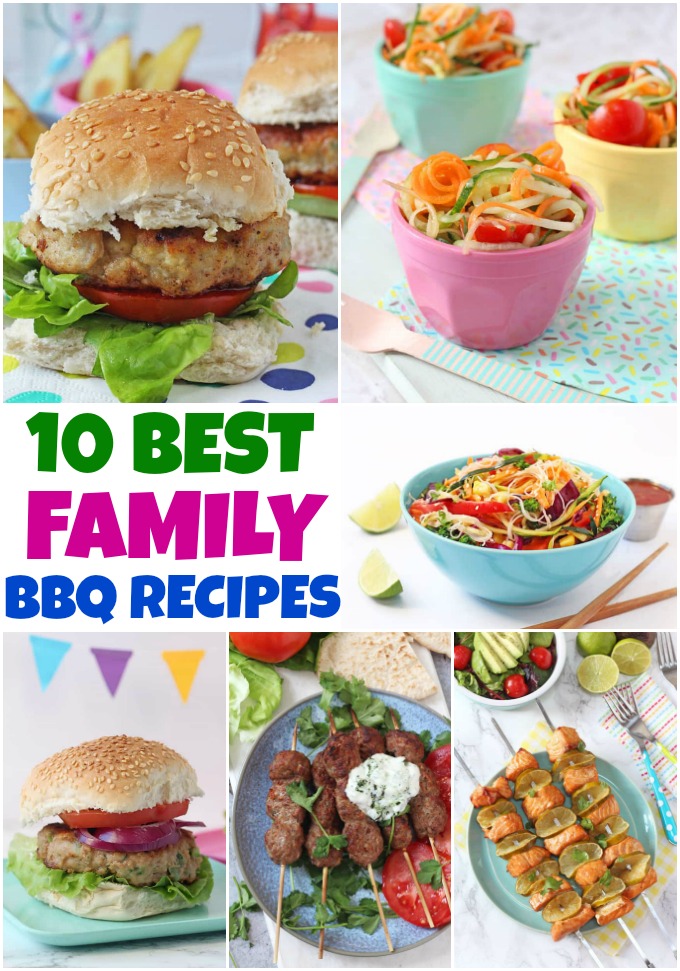 10 Delicious Family-Friendly BBQ Recipes You Have To Try!

We have been having one of the hottest summers I can ever remember here in the UK, (If you are struggling for what to feed the kids in particular during a heatwave, check out that blog post) and whilst it has coincided very nicely with the school summer holidays, on some days it has really been far too hot to be spending any time in the kitchen!
We have been having a lot of Pick Plates style dinners during the heatwave, but it has also been a great excuse to get outside and get cooking on the BBQ.
I really enjoy BBQ food, but I do sometimes feel like we cook the same things over and over when we BBQ, (like beef burgers and sausages), and then serve them with the same sides time and time again!
So I've been looking for some inspiration for not only some different main dishes but also sides that the whole family can enjoy together.
So, here's my list of top 10 Family BBQ Recipes for you to try!
Family BBQ Recipes – Mains
Delicious kid-friendly burgers made with chicken thighs and grated apple. In my opinion chicken thighs have more flavour than chicken breasts and of course they are more budget-friendly too!
Delicious BBQ Salmon Skewers made with Flora Dairy Free Avocado & Lime, the perfect summertime meal!
Crispy grilled halloumi makes the perfect vegetarian tacos. Everyone will want a taste! A Greek / Mexican mashup that works beautifully, these tacos are made on the grill but can easily be adapted to be pan fried or oven baked.
A delicious family friendly Turkey Burger packed with spinach and feta! These burgers taste just as good cooked on the bbq as they do on the hob and they can also be made ahead and either kept in the fridge for a couple of days or frozen too.
These allergy friendly burgers hold their shape, don't crumble but are soft and juicy! The recipe works fine as either mini burger patties or as a large style burger patty for a full-on adult burger.
Lamb Koftas make a really delicious and nutritious meal for the whole family served with pitta breads and salad and is made super easy with my little cheat's hack!
Healthy, easy, and delicious BBQ Chickpea Walnut Burgers. These hearty and filling vegan and gluten-free burgers can be pan-fried or grilled; and pack a most delightful flavorful punch!
Family BBQ Recipes – Side Dishes
Greek Yoghurt & Chive Potato Salad
This healthy greek yogurt potato salad is such a hit at BBQs! It's easy to make and the silky greek yogurt sauce packs a real punch while being a lighter alternative to mayo.
A quick, easy and super healthy summer salad recipe. I've spiralized carrots, cucumber and apple to make this delicious side salad that the whole family will love!
Caramelised Bramley Apple Cous Cous Salad
A delicious summer salad made with caramelised Bramley Apples and packed with giant wholewheat cous cous, Wensleydale cheese and walnuts.
Rainbow Veggie Rice Noodle Salad
A delicious and healthy family side dish packed full of nutritious veggies! The salad dressing is super mild, meaning its perfect for kids. Packed full of fresh and raw vegetables it's a fantastic way to get your kids to eat a rainbow of veggies!
ORDER my new book THE FUSS-FREE FAMILY COOKBOOK out now. 100 healthy easy and quick recipes that the whole family will enjoy!